Elite level security fasteners, now available in smaller quantities.
Screwd® exists to meet the demand that Bryce Fastener™ receives for smaller quantity orders on their industry-leading security fasteners. All Screwd® products are exclusive drives based off of Bryce Key-Rex® technology. For too long, the difficulty in acquiring higher level security fasteners has left the average person stuck using obsolete and ineffective store-bought fasteners to protect what's important to them. 
That's where we're changing things.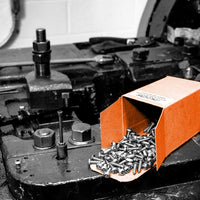 Military grade security for all.
Screwd® security fasteners use the same Key-Rex encryption technology used by our commercial, industrial, and military customers. Our exclusive drives come from a library of over 57 million different combinations that can't be duplicated or purchased anywhere else. The asymmetrical drive in our screws prove the ultimate challenge for would-be thieves as your typical tampering tools and security bits can't remove them.
Where security meets performance.
We made it a goal to offer maximum security fasteners that don't sacrifice performance. All of our fasteners torque higher than industry specifications and offer significantly better screw-to-bit fit. You'll know the difference when screws aren't wobbling while driving them in or stripping out during a demanding application.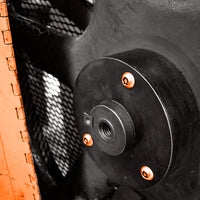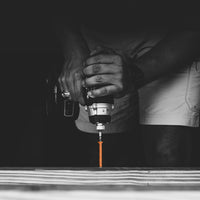 Make it easier on you and your wallet.
You won't find this level of security fastener at this low of a cost or quantity anywhere. We offer the lowest prices on quality security fasteners because we manufacture and distribute all of our products in-house. You won't fight with irritating order minimums and distributor mark-ups when you deal with Screwd®.
Know What You're Buying: The 3 Types of Security
Screwd products aren't for everyone. Some may not need as high a level of security, and some may need more. We want to help you make the decision that's best for you, so take a look at how we define and compare what we consider the three different levels of security fasteners. 
Exclusive Security
Security Level:
Maximum
Best For:
Protection against theft and unauthorized access in applications where tampering is anticipated. High-risk applications with elevated liability/financial concern.
I.E. Generating Stations, Cloud Servers, Payment Terminals, Rehabilitation Centers, etc
A Little More Detail:
Exclusive security fasteners offer users absolute security by ensuring only the original purchaser can acquire the necessary bits to remove their one-of-a-kind screws. Bryce Key-Rex® technology is the premier Exclusive drive on the market with a library of over 57 million unique security drives. Key-Rex® drives feature 7 uniquely shaped lobes with an oversized pin that repels all other security bits and tampering tools. Key-Rex® fasteners are secure enough for the riskiest of applications, but also affordable enough to be used on general applications as well. Order minimums apply.
Click here to learn more about Exclusive Security from Bryce Fastener™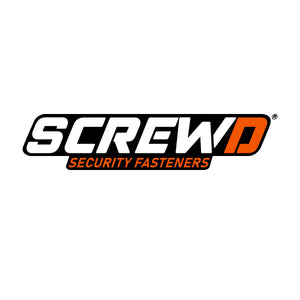 Controlled Security
Security Level:
High
Best For:
Protection against theft and unauthorized access in applications where tampering is a possibility. Medium-risk applications with average liability/financial concern.
I.E. Automotive Aftermarket, Small Businesses, Solar Panels, Custom Homes, etc
A Little More Detail:
Controlled security fasteners are no longer exclusive to an individual customer but rather to the company that sells them, so you shouldn't be able to find them from anywhere other than the original seller. Controlled security offers the perfect middle ground between affordability and security. They still protect the same against other security bits and tools, but don't come with the minimum order requirements of Exclusive security drives. The fact remains that bits can be purchased by others, but the probability of a thief having or finding the matching bit is extremely unlikely. Controlled security fasteners are perfect for large and small applications alike, and Screwd® makes it easy with fast online ordering on a wide variety of sizes and configurations with quantities starting as low as five pieces.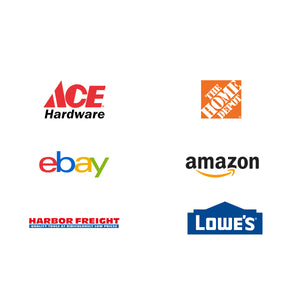 Common Security
Security level:
Minimal
Best for:
Protection against petty theft and vandalism. Low-risk applications with minor liability/financial concern.
I.E. Skateboard Blocks, Road Signs, Park Benches, etc
A Little More Detail:
Common security fasteners really shouldn't be considered security fasteners at all, but they've been around so long that they've long been the standard. Average consumers and high-dollar commercial entities alike are starting to wise up though as these once-effective security fasteners (Torx®-Pin, Hex-Pin, Tri-Wing, Spanner, etc) have now become liabilities rather than security solutions. The problem is that these dated designs have lost their patent protections and are now mass-produced overseas and available at most major retailers. Don't get us wrong, common security fasteners do serve a purpose and effectively prevent vandalism to lower-risk items like public restroom stalls and playground equipment. We wouldn't suggest using them for anti-theft protection, but considering that Screwd® offer a higher security product in a wider range of sizes at a similar or lower cost, why would you?
Click here to learn more about the different common security fasteners on the market
There's a lot of security fasteners out on the market, but not all of them are secure, and none of them will keep your valuables safe like Screwd® will.
The average person finds themselves in a frustrating predicament when it comes to purchasing security fasteners. The generic "tamper proof" screws at the hardware store are usually only available in a select few sizes, yet the driver bits for just about every standard security fastener are available in a single pack for about $10.00. 
Looking for generic security fasteners online can be equally annoying. Stumbling through dozens of listings to find the right size and configuration and then paying the frequent markup for an ineffective product can be a deflating experience.
If one looks to get a higher level of security, then they will have no choice but to go online. However, new obstacles present themselves when dealing with custom security fasteners such as minimum orders of 100's or 1,000's of pieces, lead times extending weeks of months, and an order process that can be confusing and time consuming.
It was clear to us that the average person who wants to secure what's important to them shouldn't have to be stuck with an inferior product or have to jump through hoops to find one that actually works. Screwd® provides a quick and easy ordering process for low cost, yet elite security fasteners that have been relied on in some of the highest risk environments in the world. 
With Screwd®, you don't have to sacrifice your security or your wallet to get the quality anti-theft fasteners that you need.